Our girl and I asked her dad, "What kind of dessert do you want with your Father's Day dinner?"
He wanted the same chocolate cake he and our girl made me for Mother's Day.
So this past Saturday, we placed three sticks of butter and 8 semi-sweet chocolate squares in my makeshift double boiler to melt, and mix.
Our girl keeps poking at the chocolate and butter to make them melt faster, of course. The red rubber spatula barely dents the butter, and it has no effect on the chocolate.
She is, understandably, impatient for the two key ingredients in our cake, to become one.
"You know, if you leave it alone, and let the heat do its work, the butter and chocolate will melt in no time, and then you can mix it a lot easier," I suggest.
She pauses, and looks at me, as if deciding whether to listen to me.
"Trust me, just wait a little bit, then you will be able to mix it all," I say in my most hopeful/upbeat tone of voice.
She puts down the spatula, and starts measuring out the cake flour.
In that moment, I realize I am like her. I keep poking at certain areas in my life, as if my interference could make growth appear faster.
"Personal growth does take some effort on my part. I do need to give myself to the process, but I cannot force growth to happen. This is God's realm of doing." – Joyce Rupp,The Cup of Our Life: A Guide for Spiritual Growth
Slowly, I am learning to let the heat of His Spirit and His love change me from the inside-out. Replacing self-sufficiency with greater dependency on Him.
"…but our adequacy is from God." 2 Cor. 3:5
Gradually, His Spirit is changing my ungrateful heart to one learning to count gifts one by blessed one.
I wonder if God waits to see if I want to keep "helping Him" (i.e., do it the hard way), or if I want to cooperate with His Spirit's work in my heart. Wait with humility for His timing…like a farmer waits for the sown seed to take root and bloom.
Are you ever tempted to "help" God make growth appear faster? What have you learned about spiritual growth over the years?
Counting thanks with Ann:
baking, and cooking with our girl – fun times 🙂
our girl has a dad who loves and values her
our girl enjoyed decorating the cake for her dad
For God's loving patience with me…growing me up, little by little
two orange butterflies flitting about together
great dinner and visit with hubby's brother and his family
Jubi recovered from his seizure last night, and he seems to be okay today
smelling strata baking in the morning
hearing birds chirping in our yard
Linking with sweet friend Laura for a play date
and giving thanks with wise Ann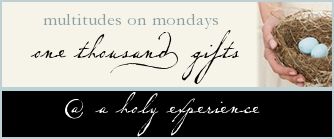 and talented L.L. Barkat
and the amazing Jen
© Soul Stops/Dolly Lee 2012. Limited License: Okay for noncommercial use if you attribute this post to me and link to my permalink and blog.