Novel in hand, I settle into a corner of our faded sofa after washing dinner dishes.

Our dog Bailey, leaves his designated half of the sofa and scoots toward me. His moist pink-brown nose nudges my arm until I lift it up and rub behind his soft golden ears.
He closes his eyes and nestles next to me.
My fingers caress his soft fur and I smile at his content expression. His warm body feels like a heated pillow next to me.
I was present and chose joy in that moment.
In her book Choose Joy, Sara Frankl created new life goals after chronic pain from a degenerative illness caused her to surrender her dreams of full time writing, marriage, children and an active social calendar.
One of her new life goals was "to be aware and present in every moment."
Sara's words remind me of two lines from the full version of The Serenity Prayer:
"Living one day at a time,
Enjoying one moment at a time…"- Reinhold Niebuhr

Too many times I don't choose joy because I'm not aware and present in a moment.
I don't choose joy when I allow my mind to race to the next thing or an awkward conversation or the suffering of a loved one or what will happen in a situation, especially newsworthy events I have no control over, etc.
Yes, I pray as I hear about news stories but it doesn't build joy if I ruminate. I'm learning to pray and release. Again and again.

When I inhale, remember all is grace, and slow the exhale, I return to the present. I choose joy. Click to Tweet, please.
I ask God for the grace to trust and be here, now.

A few weekends ago, when our family drove to the beach and the sun made all look bright, I thought of Sara.
She longed to feel the sun's warmth on her face and body but illness kept her from leaving her air-purified condo. But Sara wanted her friends and family to enjoy the sunshine for her. She chose joy not jealousy. She modeled life in God's Spirit (Gal. 5:22-23).

Photo by CC Flickr User: David Ohmer
So I thought of Sara and I felt extra grateful as the wind whipped waves around and I listened to the whoosh-slap of waves rolling ashore and out again.
I smiled as a little girl and her brother asked if they could throw Bailey's ball for him. Yes. I watched as little arms whirled and the ball fell nearby.

I chose joy.
Another way to be present is to be honest about our thoughts and feelings even when it's hard.
Sara's friend asked her what magazine subscription she'd like. Sara once loved fitness and decorating magazines. But constant pain kept her from exercising, decorating and many previously fun activities.
In the end, Sara found no magazine fit with her current life and to look at the magazines she once enjoyed would cause her to long for what she no longer had.

Her honesty reminded me of how hard it is to be truthful about our losses and disappointments. But when we're honest, we can grieve and then open our hearts to new possibilities and increased intimacy with God.

And intimacy with God created the joy that Sara defined as an "unwavering trust" in God.
Two Ways to Be Aware & Present
1) Choose joy by using your senses (touch, smell, taste, hear, see) to be aware and present. Savor. Give thanks.
Sometimes I take a deep breath, hold it for several seconds, then slowly exhale. Or I may say a short one or two word prayer.

I also post quotes and Bible verses around our home to help me to focus on what is important.
"Listen to your life….all moments are key moments, and life itself is grace." – Frederick Buechner
2) Choose joy by being honest about your feelings (whether it is delight, fear or hurt) and don't judge. Don't let the shame gremlins (Brené Brown's term*) win.

"It's okay to not be okay, to not feel strong, to carry an unspoken broken. It's okay to be real and grieve losses and hold each other tight." – Ann Voskamp
What helps you to be aware and present in a moment?
Which of the two ways is easier or harder for you?
This is the 4th post in our Joy Series.

* I'm reading Dr. Brown's book Rising Strong, which is great so far.
If you liked what you read, then, join here to receive my blog posts in your in-box once or twice a week. As a thank you, I will send you a free copy of my e-book on Soul Care (lessons I learned the hard way so you don't have to) and exclusive content every now and then. Join here to receive my blog posts in your in-box once or twice a week.
Linking with encouraging friends: Lyli of #Thought-Provoking Thursdays and Kelly B. of #RaRaLinkup and Jennifer of #TellHisStory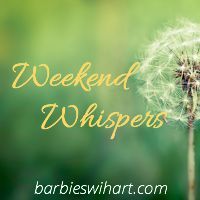 And also linking with wise Holley