Dear friends,
I wrote this post in mid-November but travels to be with family, sickness (almost better), writing a paper for a seminary class and my Top 10 list intervened, so here is the final post in our hope series.

*****
A week or two ago, fierce winds whipped trees around. Leaves fell like ticker tape. Our wind chime rang staccato-like.

Whoosh, crash. Our faded teal backyard umbrella soared and crashed into our backyard fence.
Later as I tried to pull it upright, wood cracked then broke as an umbrella spoke caught on a small wisteria tree.
Recent events caused me to identify with that umbrella.
Photo used with permission of Flickr User: Daniel Wehner
Some of us experienced our own storms. Broken hearts and relationships. Chronic pain.
And God came near in a song I heard at just the right time.
(This past weekend, my husband declared the storm tore out the wisteria tree's main root. Yet I saw hope as a smaller root survived. He removed all the tree's branches and main trunk root, which wrapped around the surviving root's trunk.)
Later I read this astonishing promise, written by Paul, who endured several false imprisonments, unjust beatings, and shipwrecks:
"May the God of hope [not of fear or discouragement]

fill you with all joy and peace in believing [elsewhere Paul writes his hope is in Christ's resurrection],

so that by the power of the Holy Spirit [not self-driven power]

you may abound [or "overflow"] in hope." – Romans 15:13

Prayer:
Dear God,
We praise you for being a God of hope and not of despair or discouragement.
We thank you we can live in hope no matter how dark the world around us or within us may seem.
We praise you that you want us to experience joy and peace as we believe in you and your promises. We thank you for how you kept your word to come the first time and you will come again.

We praise you because Christ rose from the dead so we can have hope that evil doesn't win in the end.
Thank you for Paul's example of living in hope despite painful circumstances.
Thank you for giving us the Holy Spirit to enable us to believe you are ultimately working good for us even when we can't see it (Romans 8:26-30).
Please give us the grace to believe in you and to abound in hope for ourselves and for our world.
Please give us hope as we do our daily tasks with love, whether we wash dishes and/or write computer code.
Please grant us the spiritual imagination to hope in you so we can see beyond what is visible to what is true in Christ.

Thank you for how you will give us the grace to abound in hope so we may experience joy and peace.
In Jesus' name, amen.
Where are you surprised by hope lately?
How can I pray for you?
Thanks for being here.
Lately, God keeps inviting me to choose joy so my next post will probably be on joy.
After I posted, I read Emily Freeman's "A Prayer When Things Feel Too Serious," and it felt like a bookend to my prayer.
So here is Emily's prayer, which mentions joy.

Then I read Suzanne's Eller's post on prayer in response to recent shootings, so I include her call to pray (instead of turning to fear or hatred) here, too.
If you liked what you read, then, join here to receive my blog posts in your in-box once or twice a week. As a thank you, I will send you a free copy of my e-book on Soul Care (lessons I learned the hard way so you don't have to) and exclusive content every now and then. Join here to receive my blog posts in your in-box once or twice a week.
Linking with encouraging friends: Lyli of #Thought-Provoking Thursdays and Kelly B. of #RaRaLinkup and Jennifer of #TellHisStory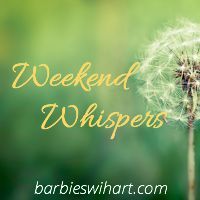 And also linking with wise Holley