Sara Frankl made the above graphic.
Before her chronic illness, Sara Frankl loved to sing, dance, water ski, and love on her friends and family.
Towards the end of her 15%20 year battle with ankylosing spondylitis, she felt pain whether she moved or kept still, and she couldn't leave the purified air of her condo. An encounter with someone's cold resulted in pneumonia.

Her journey towards choosing joy progressed over at least 15 years.

She spent 95 % of her time alone with her adorable dog Riley towards the end.
But like a master athlete, Sara had trained herself, by God's grace, to choose joy despite circumstances that would cause many to drown in despair.

Sara Frankl lived with chronic debilitating pain and yet her blog's focus was "Choose Joy."
For the past week, I've listened to an Audible(*) version of her book "Choose Joy," which was written with Mary Carver, after Sara's death in 2011 at thirty-eight. Love the book!

What encouraged me the most was when she shared one of her secrets to choosing joy was to ask God to help her to be willing to choose joy.
"…the secret to joy is to keep seeking God where we doubt He is." – Ann Voskamp, One Thousand Gifts
Photo by Flickr CC User: Sharon Mollerus
Sara asked and God answered (Matt. 7:7). She went through a gradual grief process as her abilities shrank and pain increased.

Although she began to blog towards the latter part of her life when she was on disability, she always made a conscious choice to choose joy even when piercing pain and her feelings pulled in the opposite direction.
In my last post, I wrote: "Hope births joy. And joy needs trust to grow."
So I felt kindred when I heard Sara say: "Joy is an unwavering trust in God…."
"For joy to become a reality, you must fight against the the heart attitudes of legalism, worry, workaholism, and perfectionism and instead nurture grace, trust, balance, and acceptance. It won't come without a struggle…." – Kay Warren, Choose Joy
In their respective books, both Sara and Kay fought for joy in the midst of their respective trials.
Please don't hear this as: "you need to fight on your own," because you can't.
Our fight is spiritual (Ephesians 6:10-18) and also sometimes, chemical if there is an imbalance in certain neurotransmitters. But like Sara modeled, we can ask God for what we need.
Photo by Flickr CC User: Harold Litwiler
To ask God in prayer to be willing to choose joy is the seed of trust that will one day become an oak of trust shading others.

Another part of trusting God (or choosing joy) is to tell God how hard it is sometimes. Early in the book, Sara wrote how certain losses "suck." But she also wrote many more times of how she trusted God and how she was blessed. (Yes, blessed.)

Both And … Not "Either Or." I appreciated her honesty.
5 Ways to Fight for Joy:
1. Recognize we must fight for joy and it is a process.
"Practice is the hardest part of learning, and training is the essence of transformation." – Ann Voskamp, One Thousand Gifts
Sara liked to say "habit makes able." Sara's habit of choosing to trust God enabled her to pick "Praise" as her focus and word for 2011. Amazing!
2. We can pray like Sara and ask God to help us to be willing to choose joy regardless of circumstances or feelings.
I pray for the grace to trust God (a key part of choosing joy).

3. We can ask God to help us to pay attention and see how He has already blessed us.
To choose to focus on what we have instead of yearning for what we don't have. Or as Sara put it, she learned to love what she had instead of long for what she didn't have. Of course, she went through a grieving and letting go process.
4. We fight for joy when we nurture ourselves by doing something fun. Be creative.
(Click to Tweet, please.)
When Sara realized, she would never wear her beloved jeans, stacked in her closet again, she invited a friend and later, her sister Laura, to "shop" at her condo.
She had them try on the jeans and model them. Sara loved to shop and help friends put together an outfit. But since pain kept her indoors, she hadn't shopped in years.
She received joy as she taught Laura the finer points about the stitching on a pair of jeans and what the right rear pockets on a jean can do.
5. We can thank God for who He is (loving, good, patient, forgiving, gracious) as well as daily blessings we can easily take for granted, such as being able to breathe.
Sara thanked God for people who loved her and for medical care even while she felt constant pain and was housebound.
Gratitude fuels joy. When we choose to count blessings instead of losses, we help joy to grow. (Click to tweet, please.)
Yet we also acknowledge losses and our sadness. "Both And." We grieve and we also seek the "silver lining" as Sara wrote.

Both Sara and her mom ultimately saw her illness as a gift because it taught her how to develop a deep connection with God. Sara said her illness taught her to be still because she couldn't be active.
Miraculous. A deep work of God's grace.

We can thank God because He wants us to experience joy, regardless of our personality or past.
Which of the 5 ways to fight for joy do you want to practice?
What resonated with you from this post?
Thanks for reading the second post in our Joy Series and for your comments. I always appreciate your insights.
If you liked what you read, then, join here to receive my blog posts in your in-box once or twice a week. As a thank you, you'll receive a free copy of my e-book on Soul Care (lessons I learned the hard way so you don't have to) and exclusive content every now and then. Join here to receive blog posts in your in-box once or twice a week.
(*) This is my first time listening to a book on Audible. The book alternates between Mary Carver reading her own words then a professional actress reading Sara's blog posts. I'm enjoying the mix of both voices and perspectives. I highly recommend the book although I've only read about three-fourths of it.
Linking with Mary Carver's Choose Joy Link up at her site.
Linking with encouraging friends: Lyli of #Thought-Provoking Thursdays and Kelly B. of #RaRaLinkup and Jennifer of #TellHisStory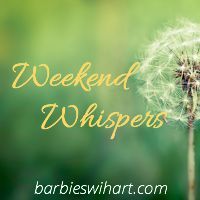 And also linking with wise Holley